CHALLENGE OF A LIFETIME
Up till now, you have dealt with life with grace and style, learning from the mistakes you've made along the way. You've raised your children and enjoyed a successful career. Now, though, you face the challenge of a lifetime, one that may have you feeling like you've suddenly been tossed in the deep end of the pool. Sometimes, parenting your parents can be an overwhelming task, one that has you struggling to keep your head above water.
In this book, you will find the permission to laugh, to cry, and to make mistakes. You will also find the strength and encouragement to get up and repeat the cycle, all the tools you need to face the new challenge of parenting your parents!
Learn How To . . .
Empower yourself by putting on the armor of knowledge.
Find humor in every situation.
Discover the power of laughter and see how it will help you cope with the task of parenting our parents, a task that will be inevitable for most of us.
Uncover In These Pages . . .
The thought of our parents aging is a frightening one, but this book will teach you how to laugh through the journey.
Love: You have to love unconditionally, whether or not such love comes back to you.
Patience: Your patience will be tested on a daily basis, in ways you cannot prepare for.
Forgiveness: Many of us need to forgive our parents or ask them for forgiveness while there is still time.
Trust: Trust your instincts and the professionals available to you; be willing to get a second opinion if necessary.
Respect: We must respect our parents, for without them, we would not be here.
Dignity: Above all, we must recognize that everyone deserves dignity, and our parents are to be honored and defended, regardless of their age or condition.
Hope: We all must have hope; the challenges of the future demand it, so we do not sink into despair and give up on those we love.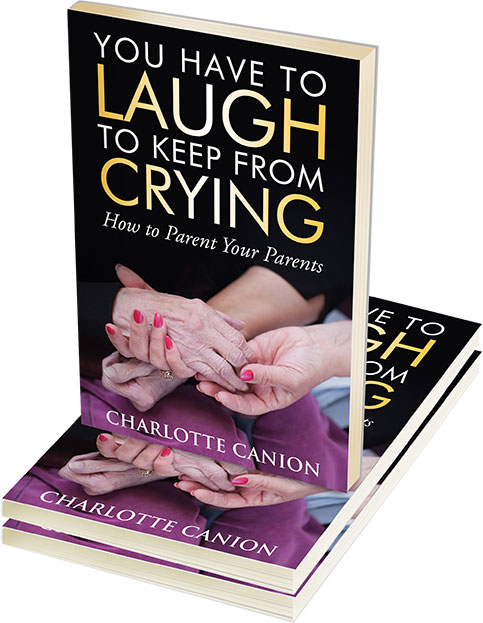 To PURCHASE your copy of You Have to Laugh to Keep from Crying
"Charlotte is one of the most driven, compassionate, and unselfish people I have had the pleasure of knowing for more than twenty years. She always goes out of her way to help others in need. Caring for people and doing things for them is what she does best and her faith in our Lord motivates her daily. She has dreamed of writing this book for many years and now she is sharing her stories with the world."
Shannon Schmidt
Assistant Vice President
Lone Star Candle Supply, Inc.
"I highly endorse "You Have To Laugh To Keep From Crying - How To Parent Your Parents" to all children of aging parents. Seeing yourself and the pressures you are facing from a humorous viewpoint gives both release from anxiety and insight into personal management. Charlotte has spent time in the trenches learning to cope while holding on to your humor and delivers laughter, instruction, and tenderness as she presents her own story of life with parental Alzheimer's and Parkinson's."
Keitha Story-Stephenson PhD
BlueSky Wellness Center
SkyBlue Family Ministry
Radio Host of "Feeding the Family-Mind, Body and Spirit"
"I have known Charlotte for only six years, but it seems like I have known her forever, simply because she is so willing to share her heart. That's exactly what she does in her writing as well; she shares her heart completely and beautifully with the reader. Through Charlotte's stories, I hope you get to know her and thank God for the wonderful lady He has placed in your life. "
Diane Schwind
Co-founder of Balanced Families Ministries
"I am honored to call Charlotte 'friend' for over a decade. I find that whatever Charlotte puts her 'hands' to turn to gold. She has the God-given talent of creativity with a generous portion of knowledge and infectious enthusiasm. She masters whatever comes her way, first with her gorgeous smile and dazzling personality, and, second with wisdom. Tools that are essential for success. Keep rocking the world, Charlotte. I am one of your best fans."
Sherry Lemon
County Clerk/ Local Registrar, Wise County
"In her book, "You Have To Laugh To Keep From Crying - How To Parent Your Parents," Charlotte Canion shows how our family roles change as time goes by with the children assuming the role of parent for their aging parents who are nearing the end of their lives. Her mother's tender hands guided and supported Charlotte as a child and as an elderly parent, the daughter's strong hands support and nurture the weak, failing hands of her mother. She provides a collection of stories which deal with the challenges that children face as their parents' age and must endure diseases like Alzheimer, Parkinson, and other facets of dementia. Her insights are highlights of hope, faith, and love to help prepare everyone who ultimately faces the challenges of aging parents. Here is a reference book for everyone who needs the hands of love to caress their aging parents."
Jim Galbraith, Ed.D.